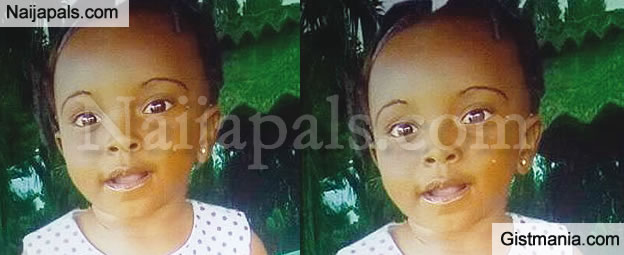 A woman, identified only as Mama Oyin, has allegedly abducted a one-year-old girl, Fehintola Lawal, in the Abule Egba area of Lagos State.

GISTMANIA learnt that Mama Oyin, who disguised as a customer, had on Saturday said she was willing to buy some items from Fehintola's mother and grandmother, who were retailers in a shop in the Abule Egba area.

Our correspondent gathered that the items were not available in the shop.

Mama Oyin was said to have returned on Monday around 11am to the shop, and reportedly begged for direction to where she could buy the items in Agege.

It was learnt that Fehintola's mother, Lola Lawal, had offered to go with Mama Oyin, who was said to be a friendly customer.

GISTMANIA learnt that while Mama Oyin and Lola were about leaving, Fehintola fell asleep and the customer was said to have requested to strap her (Fehintola) to her back, while she (Mama Oyin) handed over her bag to Lola.

Our correspondent gathered that the women boarded a tricycle to Abattoir Junction, after which they took a commercial motorcycle to Oko Oba, Agege.

It was learnt that when they alighted, they took separate motorcycles to the place where the items were said to be sold. It was gathered that when the motorcycles got to Olaniyi Street, the one boarded by Mama Oyin diverted to another street.

GISTMANIA learnt that as the girl's mother tried to pursue the customer, her motorcycle was said to have sped back to the Abule Egba Road, where she hurriedly crossed the road and took a tricycle.

Our correspondent gathered that since Monday, Mama Oyin and Fehintola had not been seen.

The matter was said to have been reported at the Abattoir and Elere divisions the same day.

Speaking with GISTMANIA, Fehintola's aunt, Lolade Oseni, said the bag Mama Oyin dropped with Lola was later discovered to contain papers cut to currency sizes packed into envelopes, adding that the phone numbers she gave them did not connect.

She said, "This woman met Lola on Saturday. She said she wanted to buy souvenirs, adding that she could also be supplying us goods. She said she was new to the area.

"Fehintola's mother, Lola, and my own mother welcomed the customer. She played with them on Saturday before leaving for her supposed house. On Sunday, she came again and went with my mother to church, claiming that her church was far. She came to our house on Sunday.

"On Monday, she came again, saying she needed the souvenirs urgently. Mama and Fehintola's mother offered to go to Agege with the woman to get the items. The girl became asleep while they were trying to board a tricycle. It was then that the woman offered to put Fehintola on her back.

"When they alighted, they took motorcycles and then another motorcycle. Later, they took separate motorcycles. That was when the woman escaped with Fehintola. The girl's mother is distraught at the moment. We searched the bag Mama Oyin gave us and discovered that it contained papers, not money. The phone number she claimed to be using has not rung."

Our correspondent gathered that the matter had also been reported at the Special Anti-Robbery Squad, Ikeja, and the office of the Police Public Relations Department, Ikeja.



Another family source said, "Mama Oyin also gave her name as Bisi. We did not suspect anything when she came to our house on Saturday. As of the time she escaped with the girl, she wore black and white dotted blouse and wrapper. The phone number – 08082629509 – which she gave us has not been going since the incident.

"When the girl's mother ran back to the Abule Egba Road, some pedestrians confirmed that they saw a woman cross the road with a girl and board a tricycle. We believe the police can help to rescue our girl. We are all depressed at the moment."

Our correspondent learnt that the family members planned to visit the Ogun State Police Command Headquarters, Eleweran, Abeokuta, on Thursday (today) to extend their search for the girl.

The Lagos State Police Public Relations Officer, SP Dolapo Badmos, confirmed the incident.

She added that investigation was ongoing on the matter.