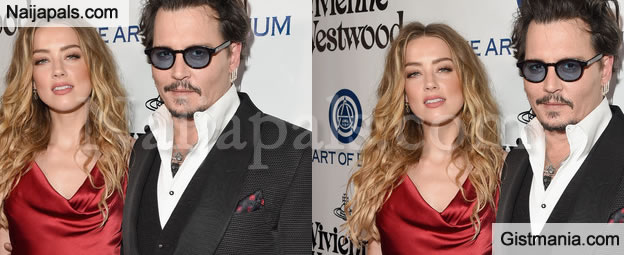 Johnny Depp and Amber Heard have split after just 15 months of marriage and it looks like it's going to be messy.
The actress, 30, filed divorce papers on Monday citing irreconcilable differences and seeking spousal support.
On Wednesday, Johnny, 52, who is worth $400 million and owns a private island in The Bahamas, filed his own legal documents asking the judge to reject his estranged wife's request for maintenance.
A source says the couple do not have a pre-nup, according to TMZ. who sought confirmation from the couple's spokesperson but did not receive an immediate response.

It's Hollywood there's nothing shocking about their one year marriage.

What's shocking is that Amber who is also an actress filed for divorce just 3 days after his beloved mother passed away!

SO COLD!

Some people say she used the 52 year old Pirates of The Caribbean star to gain popularity cos when she got with him no one knew her…


Anyways Amber is citing irreconcilable differences and she wants spousal support, which she will probably get seeing as the couple who married last year February, had no prenup.

It is being reported that Depp was extremely close to his mother who passed on May 19.

This is Depp's second marriage, before marrying Heard he was in a long term relationship with Vanessa Paradis with whom he has two children.