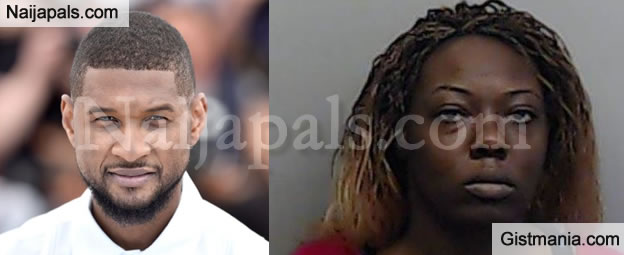 Usher has problem shaking an obsessed fan ... and it got so bad that she was arrested standing outside a recording studio trying to film him.
Authorities that says Usher was at in Atlanta recording studio earlier this month when Darshelle Jones showed up.

Sources said that Jones was across the street trying to record the singer with an iPad, a big no-no considering he's got a restraining order against her.

According to the arrest report Jones was only 100 feet away from the studio and the restraining order says she's gotta be at least 200 yards away from Him.
Jones was booked for aggravated stalking and is still in custody.



The woman arrested in front of Usher's house last weekend was later admitted to a psych ward for mental evaluation -- after insisting she was the singer's wife -- this according to law enforcement.

TMZ broke the story ... 26-year-old Darshelle Jones-Rakestraw was arrested outside Usher's Georgia home Sunday after disobeying a criminal trespass warning -- ordering her to stay off his property.

Cops issued the warning the previous day, when Darshelle showed up to Usher's house the first time ... and someone on the property had to call police.

Now, TMZ has obtained the incident report from Johns Creek PD that describes the events in detail -- claiming when cops arrived Sunday in response to a suspicious person call, they found Darshelle on the front porch using her iPad.

According to the report, Usher had spotted her on his surveillance camera and called the police himself.

Once they identified her, cops placed Darshelle under arrest for violating the criminal trespass warning -- but according to the report, she was in such a bizarre mental state ... the jailers refused to take her.

According to the docs, Darshelle kept insisting she was Usher's wife and he makes all her decisions -- which is crazy talk ... because Usher's NOT married.

As a result, cops claim Darshelle was taken to Emory Johns Creek Hospital instead, where she was admitted for a mental evaluation. She was released shortly after ... with a copy of the charges against her. Darshelle's due in court next month.