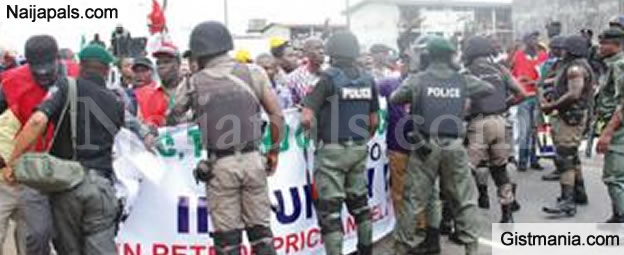 Members of the Nigerian Labour Congress were left in shock and panic after policemen in Ebonyi attacked and beat them to a pulp. Shock and panic greeted Nigerian Labour Congress protesters in Ebonyi state as a team of armed policemen brutally attacked and beat them up for statging a peaceful protest in the state against the increase in pump price by the federal government.

According to The Nation, the workers were intercepted near Pastoral Centre along the Abakaliki-Enugu Expressway as they were on the peaceful protest by a detachment of Police officers who proceeded to attack the workers.

It was also gathered that the policemen not only attacked and beat them up, the protesters were tear gassed ceaselessly with many sustaining various degree of injuries. The Chairman Comrade Ikechukwu Nwafor was not spared as he was seen rolling on the ground as the Police officers kicked and beat him.
He was later bundled into the waiting white Police Hillux van by four police officers and taken to the Police Headquarters in Abakaliki alongside about 15 other labour leaders.

While defending the impunity, police claimed the workers did not obtain Police clearance to carry out the protest, an allegation debunked by Comrade Nwafor.
The report further states that the workers on getting to the Pastoral Center, met a detachment of Police Officers who unleashed an attack against the workers tear gassing them ceaselessly. One of the Labour leaders, Comrade Greg Ishaya was seen at the police Station with minor injuries on his hands from the attack. Comrade Ikechukwu Nwafor was in pain as he sustained serious knee injuries and was limping.
However, the Police Commissioner in the State has denied that the workers were attacked adding that the police only used minimal force to disperse the crowd.

Speaking on what happened, Ikechukwu Nwafor accused the police of brutality and infringing on their fundamental human rights.
Quote
"We were on a peaceful demonstration against the increase in fuel pump price and electricity tariff when the police attacked us. We gave them a letter, I was calling the Commissioner and she didn't pick my calls and we have evidence to that"

"What we were doing is a peaceful demonstration and all of a sudden the police came and attacked us. The police when we saw them we thought they were coming to protect us. They tear gassed us. They lifted me up and hit me on the ground and gave me a thorough beating. Five of them later lifted me up and threw into their hillux van like a common criminal."
Comrade Nwafor said.