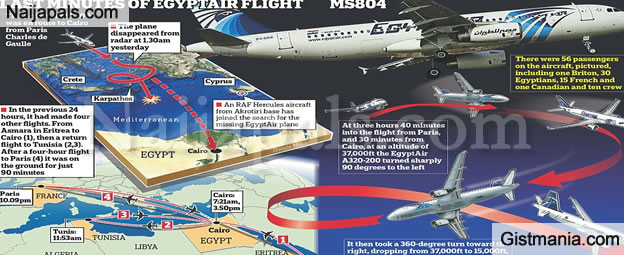 Body parts, seats and luggage have been found floating in the Mediterranean in the hunt for doomed EgyptAir flight MS804, it emerged today. The announcement by the Greek defence minister will be a devastating blow to relatives who are holding out a glimmer of hope that their loved ones may have survived the crash.
It came after the Egyptian military said it discovered wreckage around 180 miles north of the coastal city of Alexandria and was sweeping the area for the plane's black box recorders which could solve the mystery of the crash.
Egyptian President Adbel Fattah al-Sisi, meanwhile, offered condolences to families of those on board, amounting to Cairo's official confirmation of their deaths.
Although fingers pointed towards Islamist militants who blew up another airliner over Egypt just seven months ago, no group had claimed responsibility more than 24 hours after the disappearance of flight MS804, an Airbus A320 that was flying from Paris to Cairo. Three French investigators and a technical expert from Airbus arrived in Cairo early on Friday to help investigate the fate of the missing plane, airport sources said.
Egyptian Prime Minister Sherif Ismail said yesterday that it was too early to rule out any explanation for the disaster, but the country's aviation minister said a terrorist attack was more likely than a technical failure.

Friday's announcement that debris had been found followed earlier confusion about whether wreckage had been located. Greek searchers found some material on Thursday, but the airline later said this was not from its plane.
While there was no official explanation of the cause of the crash, suspicion immediately fell on Islamist militants who have been fighting against Egypt's government since Sisi toppled an elected Islamist leader in 2013.
In October, the Islamic State group claimed responsibility for blowing up a Russian jetliner that exploded after taking off from an Egyptian tourist resort. Russian investigators blamed a bomb smuggled on board.
Last year's crash already devastated Egypt's tourist industry, one of the main sources of foreign exchange for a country of 80 million people, and another similar attack would crush hopes of it recovering.

EgyptAir stewardess Samar Ezz Eldin posted a picture of an air hostess in front of a passenger jet crashing into the sea behind her
While most governments were cautious about jumping to conclusions, U.S. Republican candidate for president Donald Trump tweeted swiftly after the plane's disappearance: 'Looks like yet another terrorist attack. Airplane departed from Paris. When will we get tough, smart and vigilant?'
Many hours later his likely Democratic rival Hillary Clinton also said it appeared to be an act of terrorism, although she said an investigation would have to determine the details.
Officials from a number of U.S. agencies told Reuters that a U.S. review of satellite imagery so far had not produced any signs of an explosion.
They said the United States had not ruled out any possible causes for the crash, including mechanical failure, terrorism or a deliberate act by the pilot or crew.
Amid uncertainty about what brought down the plane, Los Angeles International Airport became the first major U.S. air transportation hub to say it was stepping up security measures.
In Britain, a spokesman for the David Cameron said Whitehall officials from different departments will be working throughout the day and into the weekend on the disaster and will update secretaries of state and the Prime Minister on all developments.

Captain Shoukair (right) with colleagues. Air traffic controllers said he was in 'a good mood and gave thanks in Greek' when he was in last contact around 25 minutes before the jet fell out of the sky in a suspected terror attack
However, the Government is refusing to discuss security procedures until the cause of the crash is known.
The military has sent a vessel to follow the flight path of the plane and is heading south west towards where wreckage has reportedly been found.
The RAF sent a C130 plane which completed a surveillance flight last night and a second flight is ongoing.
The Air Accident Investigation Branch has also offered its assistance to the investigation and is ready to offer support if required.
Meanwhile, heartbreaking details are beginning to emerge of the lives cut short on board the doomed flight.
Air hostess Samar Ezz Eldin, 27, had uploaded a prophetic image of a plane crashing into the sea on her Facebook page in September 2014 just four months after she started working at Egypt's national carrier.

Family man: Richard Osman was among the 66 victims on board the jet. His brother has described his 'delirious happiness' after the birth of his second daughter just three weeks ago. Mr Osman is pictured here with his French-born wife Aureilie and his first daughter Victios
It shows an air hostess dressed smartly in wet clothes pulling a carry-on suitcase out of the water as a passenger jet plunges into the sea behind her.
Other victims identified include the captain who celebrated a promotion just four days earlier, the co-pilot whose family sacrificed everything so he could learn to fly and a cabin manager who gave up a successful TV acting career to become an air hostess.
Captain Mohamed Said Ali Ali Shoukair, 37, from Giza, had invited his colleagues and former flying school classmates to a huge dinner to celebrate his promotion to the rank of senior pilot, MailOnline can reveal.
Ahmed Adly, of the Egyptian Pilots Association, told MailOnline: 'I can confirm that Mohamed Said Ali Ali Shoukair was the captain of the Egyptair MS804 that has been lost.'
Another friend Ahmed Mashaal said: 'God bless you Shoukair. I last saw him four days ago at a party.
'He invited his whole colleagues from EgyptAir and fellow students from the flying school to a huge dinner to celebrate his promotion four days ago [on Monday]. He was celebrating his promotion.'
Captain Shoukair was a very experienced pilot with 6275 flying hours, 2101 of those hours flying an Airbus 806. He was not married and did not have any children.
His co-pilot Mohammad Mamdouh Assem had dreamed of flying planes since he was five years old and his mother had put all her savings into helping him achieved his lifelong goal.
According to friends, co-pilot Mohammad Mamdouh Assem's lifelong dream was to cruise the skies – with his mother spending all her savings on sending him to aviation school.
Childhood friend Omar Nasef told The Daily Beast: 'He wanted to be a pilot since he was five. He was an unbelievable person, social.'
His mother tragically died a few years ago from cancer and the family was still struggling to cope with her loss when news broke that he had perished on the doomed flight.
'His mom put all her savings towards his education,' Nasef said. 'The academy and all that, and it's very expensive in Egypt. That was a big sacrifice.'
'All that I know is that he loved flying. That was his dream job and that's it,' he said.

Passenger: A Canadian woman among those on board the plane has been named as Marwa Hamdy (pictured)
Cabin manager Mervat Zakaria was also revealed to be a former TV actress who had been promoted to her position just one month before the crash.
Ms Zakaria had joined the national airline carrier in 1986 after giving up a successful acting career.
She had starred as a troubled teenager, Hala Awad, who had lost her mother in the hit Egyptian drama Abu El Ela El-Bashery.
The show was named after the character of the widower who was bringing up his daughters on his own.
However Ms Zakaria, who is believed to be married with a daughter, stopped acting before the second series to take up a career as an air hostess for EgyptAir.
Yesterday, it emerged British passenger Richard Osman had recently celebrated becoming a father for the second time.In the wake of the crash, his family spoke out about their heartbreak.
Mr Osman had celebrated the birth of his second daughter Olympe just three weeks ago, and was travelling to Egypt for work.
'I still can't take it in,' said his brother Alastair in Swansea.
'I got a call from our sister first thing this morning and I'm still in shock.
'Richard was so happy at the birth of his second daughter, and yet weeks later he is no longer with us - it's an absolute tragedy.'
Mr Osman, a geologist, was also father to a 14-month-old girl called Victios.
His two daughters are being looked after by their French-born mother Aureilie, 36, in Paris, where the couple have a home.
Mr Osman's brother Alastair, 36, a biochemistry student at Swansea University, said: 'Of all the family I would've thought Richard would have been the last to go.'
'He was incredibly fit and a workaholic and since leaving university he has never stopped.
'He was really happy about having the baby and was looking forward to enjoying a lovely family life with his two girls.'
He is believed to be a dual citizen of Australia, following a statement issued by the Australian government saying that one of those presumed dead is a UK-Australia dual national.
Minister of Foreign Affairs Julie Bishop declined to give additional details, including details on the passenger's identity.
Prime Minister David Cameron told LBC Radio: 'I absolutely feel for them [the families]. This is obviously a dreadful event. We don't know very much right now about what's happened.
'We know that there was one British national on the plane. It looks as if it has gone down in the Mediterranean.'
'One of our ships RFA Royal Fleet Auxiliary Mounts Bay is nearby and so we've sent it to the area, but I think it's too early to speculate about what the cause was.
'We simply don't know but all the experts are talking to each other and trying to work out what has happened and when we know more, we'll be able to say more.'
The Airbus A320 left the French capital's Charles De Gaulle Airport at 9.09pm GMT last night before coming down off the Greek island of Karpathos ten miles into Egyptian airspace at around 00.30am GMT. It was scheduled to arrive at Cairo Airport at 1.15am GMT.
EgyptAir first reported on the disappearance of the flight, tweeting: 'An informed source at EGYPTAIR stated that Flight no MS804, which departed Paris at 9.09pm (GMT) heading to Cairo, has disappeared from radar.'

Relatives of passengers on board the EgyptAir flight cry at Cairo Airport as they try to receive information on their loved ones
Greece's Civil Aviation Authority CAA said the flight entered the Greek air traffic control area (FIR) at 2.24am Greek time (11.24am GMT).
It was identified and approved on its flight course before passing into the next section of air traffic control where it was approved by the controller for the exit point of the Greek FIR.
The CAA said the last communication traffic controllers had with the EgyptAir pilot at around 00.05am found him in good spirits.
It said the pilot 'was in a good mood and gave thanks in Greek when authorised to exit the Athens flight information region'.