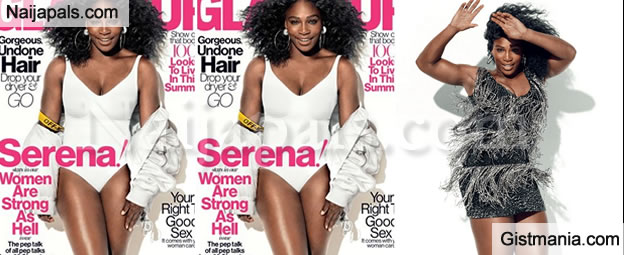 Tennis Legend and part-time Beyonce video vixen, Serena Williams is the cover star of the July issue of Glamour magazine. Styled in a white Wolford bodysuit, paired with an off-white Virgil Abloh jacket, the 34-year-old star flaunts her killer physique as she poses fiercely for the cover shot.
In other photos, she poses in a stunning Burberry fringe dress and another shows her rocking a Fleur du Mal bodysuit and the Azzedine Alaia belt. Speaking to Melissa Harris-Perry for Glamour, Serena Williams dishes on her career, her desire to start a family and raise kids, the wage gap for women in sports and those who blamed Drake for her loss at the 2015 U.S. Open.

On being called the world's greatest athlete:
Oh my gosh, I don't know. That's so hard to say. I try to be the best that I can be every day. I have bad days. I had a bad day the other day. I hit for only, like, 30 minutes, and I stormed off the court. But that was the best I could do on that day. So am I the greatest? I don't know. I'm the greatest that I can be.

On Starting a Family and Having Kids:

Yeah. I definitely want to have kids one day. That's something I've always wanted since as long as I could remember. And the older I get, the more I'm like, "I'm too young!" [Laughs.]
On blaming Drake for making her loose at the 2015 U.S Open:

No. I don't think that was fair. I'm the one who's playing, who's making mistakes or making winners. I'm not one to blame anyone else for anything. And I don't think anyone else should either. I played a really good opponent that day. And I wasn't at my best.
On leaving a Legacy:

I never thought about leaving a tennis legacy. I always thought about leaving a legacy of fulfillment, living out your dreams, and giving back. I'm proud to have opened [two] schools in Africa and one in Jamaica [through the Serena Williams Fund and its partners]. I was given a lot. I was given two parents. That's already starting above a lot of kids. And then I was given the opportunity to play tennis and parents who supported that. I feel I can give back.