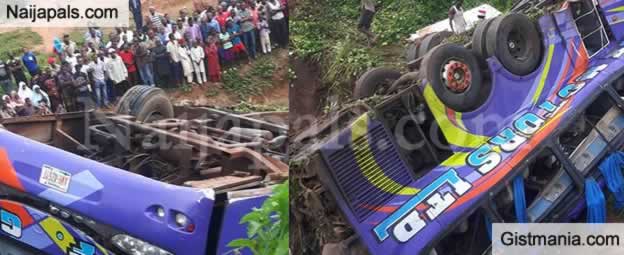 Barely a few days to the New Year, a pregnant woman died in an auto crash in Lagos while her husband, Mr Femi Ajayi, and son, Darasimi, sustained various degrees of injury. At press time, doctors were still battling to save the lives of Ajayi and his five-year-old boy, Darasimi.
It was learnt that the tragic incident occurred about 10.21p.m. on Sunday when a Nissan Pathfinder at Ikeja bus stop on Agege Motor Roadconveying the family skidded over the road and collided with a TATA bus marked Lagos AKD 21 XC on the other side of the road.
Passers-by and sympathisers rushed to the scene but before they could move close to the vehicle, the middle-aged pregnant woman had died while her husband and son were writhing in pains. It was learnt that commut-ers, men of the Lagos State Emergency Agency (LASEMA), police, LASAMBUS and men of the Federal Road Safe-ty Commission (FRSC) had a hectic time before they could remove the victims from the mangled Sport Utility Vehicle (SUV) under the truck. Speaking on the incident, the General Manager, LASEMA, Mr Michael Akindele warned motorists against over speeding. He said:
"The agency received distress call about the accident around Ikeja Along Bus Stop on the Agege Motor Road. "Investigation carried out by the agency at the scene revealed that the accident occurred when a blue jeep swerved into the Nissan causing the Nissan to skid over the road to the other side and finally hitting a TATA bus on the other side of the road.
"Unfortunately a young woman identified as Mrs Ajayi sitting in the front passenger seat died instantly while the husband identified as Femi Ajayi and a five-year-old boy, Darasimi, survived with minor injuries and were moved to the Lagos State University Teaching Hospital (LASUTH) for treatment." Akindele advised drivers against over-speeding, especially at night. He also cautioned motorists to always maintain necessary safety precautions when driving.